PRIVATE VISA LETTER
Considered as an emerging service with prominence applications, Private Vietnam visa on arrival will definitely ensure your private information security when you apply for Vietnam visa.
1. What is Private Vietnam Visa on Arrival?
According to regulation of Vietnam Immigration Department, it is necessary for international travelers to provide basic information presented on passport which is the base to get visa.
Normally, each day Vietnam Immigration Department approves to thousands of travelers entry Vietnam through Vietnam international airports. Therefore, each approval letter will show information of many customers approved and your information is no exception.
Private Vietnam visa on arrival service is created on the factual and urgent demand of international travelers to get entry into Vietnam. When you use Private Vietnam visa on arrival, we will work directly with Vietnam Immigration Department and they know that you are our important customer, they will offer you an approval letter with only your information or your family member's, relative's who will get entry with you, that mean your information is secured 100%. Also, the process get actual visa at international airport can be faster because Custom officer will not take time to check your information in the list of many other customers in approval letter. Mostly, anyone has private visa approval letter is VIP guest.

2. Is Private Visa necessary and how does it affects on entry process?
There is no regulation of Vietnam Government about compulsorily using Private Vietnam Visa on arrival when getting entry into Vietnam. You totally can choose Share Visa to make entry process and save a small amount of fee. Currently, we are providing a Private Visa Service with 05 USD for each booking (in an approval letter, only your information and your relatives information are presented.)

3. The difference of Share Visa and Private Visa
Comparison

Private Vietnam Visa On Arrival

Share Vietnam Visa On Arrival

Advantages

Secured information 100%

Approved process is faster
Limitation of additional problems when you get entry at the airport such as taking time to wait, cannot check your information in the system…
Getting maximum support during the time staying in Vietnam by our staffs.

Disadvantages

Information is not secured.
Taking time at the airport in process to get actual visa.
In some cases, there is error in Vietnam Immigration Department's system at the airport, they can not check the personal information when you make entry process.

You can download Share Visa and Private visa form


PRIVATE VISA LETTER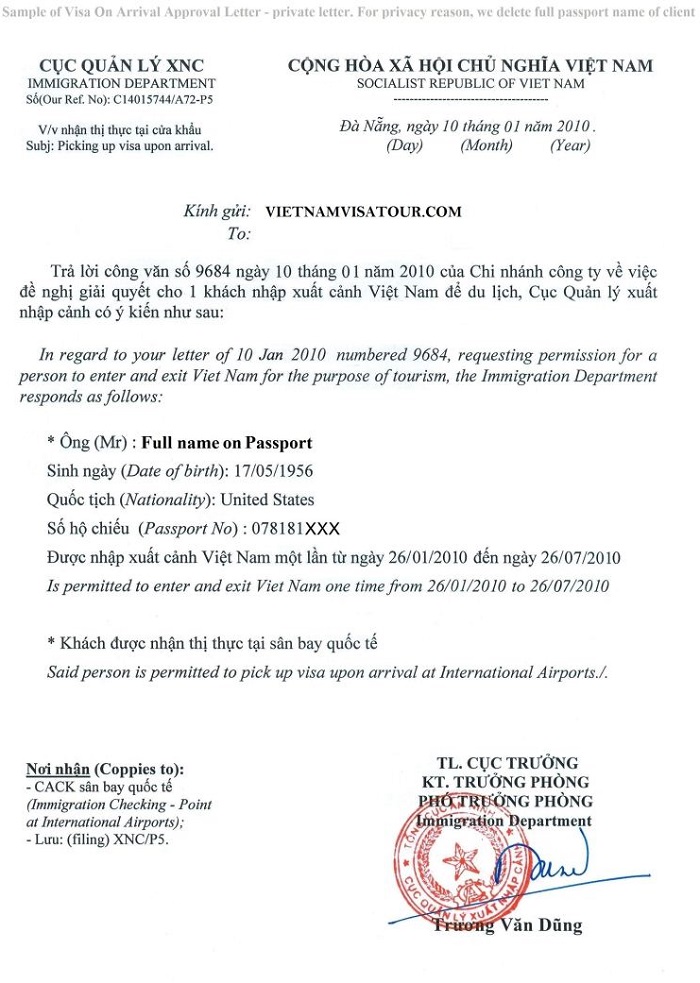 SHARE VISA LETTER